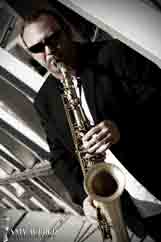 Quick Links:
On The Web:

Early life:
Pete Petersen was born in Portland, Oregon. He developed a strong attachment to the Pacific Northwest while living in Portland as a young child, and also spent several years as a teenager in Boise, Idaho.
It was in Boise where he first heard jazz pianist Gene Harris, playing in a local nightclub. Harris's playing would be a major influence on Pete's sound in later years, though he didn't know it at the time. "I was way too young to get into the bar Gene was playing in at the time, so my parents would sit me around the corner in the restaurant section where I'd listen from around the partition," says Petersen. "I don't think Gene ever saw me or knew I was there at the time, but I was hooked on jazz from that moment on, and I knew I wanted to do more than just listen to jazz, I wanted to play it, to be part of it, to live it."
Education:
Pete earned a Bachelor of Music degree in Jazz Studies from the University of Denver, at the same time honing his jazz chops by sitting in with local greats like Ron Miles, Stefan Karlsson, Bruno Carr, Keith Oxman, and others. He also played 4th tenor sax in the area's top working big band, the Denver Jazz Orchestra, where he was able to hang out with and learn from old-school greats like Homer Brown. "Homer came out of the direct lineage of Lester Young: he was a protégé of Lester's; they used to call him 'Little Pres' because he sounded so much like him. Being able to sit next to guys like that in the band and learn from them was like getting as close to the source as possible." Pete also studied from Marvin Blackman, another ex-New Yorker hard bop player, who had spent time playing with Thelonius Monk and Rashied Ali back in the early days of the avant-garde movement, and from Art Bouton, a top-call studio and show musician in the area. During this time he also was gaining professional experience as a member of a local alternative-funk band, Lord Groovy and the Psychedelic Zombiez. That turned out to be a very important opportunity - during his 2-year stint with the band, they were the opening act for several well-known touring acts including Primus, Widespread Panic, Spin Doctors, Mr Bungle, and the Wallflowers.
Early Professional Career:
In 1994, Pete took a year-long gig with the band Page IV in Telluride Colorado. During this time he was featured on NPR's JazzSet playing behind vocalist Kevin Mahogany and trumpter Jack Walrath. "At the time, that was the biggest thing I'd ever done," says Pete. "I was nervous, and I was holding back, playing tentative and scared. Kevin pulled me aside after the rehearsal and asked me 'What's wrong?' whereupon I proceeded to unload on him all of the nervous thoughts and fears that were going through my head. He smiled and told me 'You know those players you admire, those musicians you idolize, well they're just cats like you and me, they've just been doing it for a little longer is all.' That made all the difference in the world - I stopped being nervous and started playing."
Back to the Northwest: Since relocating to Portland, Pete has worked his way up the ranks of Portland's jazz scene. He was a member of a long-running quintet with jazz veterans Eddie Wied, Frank de la Rosa, and Keith Werner. He also was a longtime member of the venerable Border Patrol Big Band as well as the prolific Art Abrams Swing Machine Big Band. During this time he also was a member of several other working bands around the area in various style genres, most notably the Tower of Power tribute band Soul Vaccination. In 2003 he arranged music for and recorded on a CD project with Howard Crosby, nephew of the legendary crooner Bing Crosby. But his most lucrative and longest-running opportunity came when he joined Lily Wilde's Jumpin Jubilee Orchestra in 1998. Lily's ensemble rode the top of the wave of popularity generated by the resurgence in Swing Dancing in the late 90's, earning acclaim from swingers nationwide and garnering awards and acclaim from DJ's on the newest media, internet radio. Pete was a core member of that organization until 2003, when he left to focus his energy on developing his own jazz and swing project, the Lester Young-inspired Porkpie. That band has gone through several incarnations and evolutions to its present-day form and is currently known as The Pete Petersen Septet.
Currently:
As a sideman, Pete Petersen is currently one of a list of the most in-demand players in Portland, performing regularly with top groups around the region and working in horn sections for nationally touring groups of all styles, ranging from the Jimmy Dorsey Orchestra to Lynyrd Skynyrd. He is currently a full-time member of horn sections with The Patrick Lamb Band, and the Ellen Whyte Band. He also has toured with regional notables including Bay Area boogie-woogie pianoman Mitch Woods, and internationally acclaimed swing pianist Solomon Douglas. As a bandleader his septet has hit the national stage, performing at jazz and swing festivals in Chicago, Denver, Seattle, and beyond. His newest CD, "Keep Your Hat On" was released internationally on Pony Boy Records in January of 2008.
Band Members:
Bryan Dickerson - alto sax (Glenn Miller Orchestra; Portland Jazz Orchestra; Lily Wilde Orchestra; Art Abrams Swing Machine; Carlton Jackson/Dave Mills Big Band; Soul Vaccination)
Greg Garrett - trumpet (Artie Shaw; Art Abrams Swing Machine; Lily Wilde Orchestra; Soul Vaccination; Columbia Brass Quintet)
Ben Medler - trombone (Director- Portland Youth Jazz Orchestra)
Stan Bock - trombone (Airmen of Note; Mel Brown Septet)
Andre St James - bass (St James/Woods Nonet; Sun Ra Arkestra; Mel Brown Septet)
Brian Ward - piano (Curtis Salgado Band; Patrick Lamb Band; Lily WIlde Orchestra)
Ed Pierce - drums (St James/Woods Nonet; Geno Michaels Ensemble)
Donny Osborne - drums (Mel Torme; George Shearing; Buddy Rich)


Pete Petersen endorses
Audix™ Microphones

Swingin' Jazz from
the Pacific Northwest

American Federation of Musicians